Community Building and Special Events
For over 25 years, Mahara worked with colleges and universities throughout North America teaching the importance of community and diversity on campus with the reward winning orientation show "Playfair Inc." Using non-competitive interactions that inspire co-operation and community with groups as large as 7000, Mahara has catapulted individuals into collective and ecstatic unity!
As an MC, Performer and Community Builder, Mahara weaves experiences of upliftment by facilitating events that celebrate the earth cycles and ourselves as the 'Family of Humankind.' Using music, ritual, drumming and dance, often in collaboration with many of Vancouver's finest world class musicians and performers, these events strengthen our collective knowing that, as the Hopi Elders said: "WE ARE THE ONES WE HAVE BEEN WAITING FOR."
Still No. 1, Playfair Inc. has been inspiring unity for 40 years!
Matt Weinstein founder and Emperor, has been awarded the NACA College Entertainment Award for best community building show for over 40 years.
An audience participation extravaganza, "Playfair Inc." was first created for university and colleges to give new students an experience of inclusion and belonging, an opportunity to be a part of something bigger and more expansive than just classes and grades. Playfair builds community; fabulous, expressive, dynamic, creative, safe and kind community where everyone is acknowledged, respected and belongs.
As a young high school teacher back in the 70's in New York City, Matt Weinstein quickly realized that what students were missing the most, was a sense of connection and community. Through innovative group interactions that start simply and build to dizzying heights of high stakes creativity, Playfair trained facilitators can successfully guide any group of people into fun, collaborative and profound community.
Community Building
Mahara has been dynamically leading Community Building at conferences, special events and on campuses for over 40 years now since 1978.  Book Mahara and her Community Building Services for your next event!
Perfect for…
Kicking off conferences or conventions
In house training for corporations
Creative conflict resolution on campuses
Turning any group into a connected community!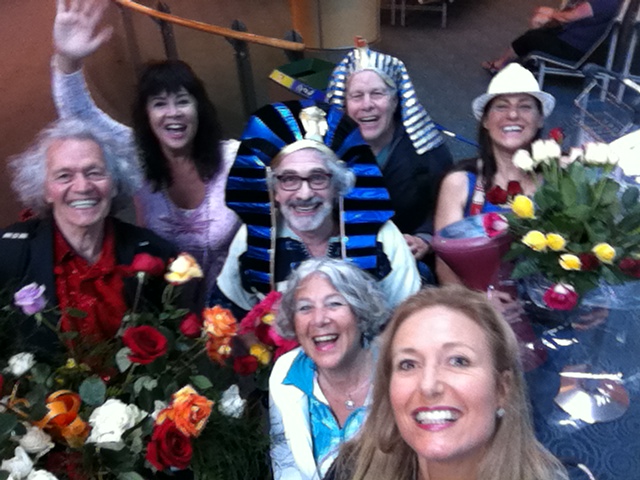 PLAYFAIR CANADA Reunion with Mahara Brenna, Jerry Ewen, Catherine McLellan, Carol Anne Fried, Carla Rieger May 2016. Matt and Ritch (Emperor and Vice Emp) visiting from Playfair USA